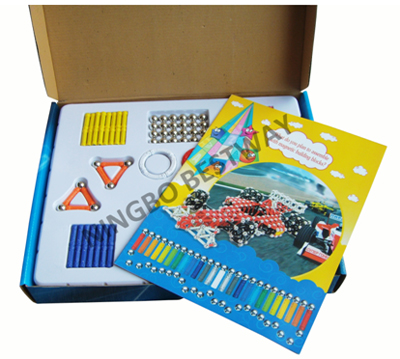 BWT2
magnetic world --Creative world.
our new magnetic toys is made of magnetic sticks and steel ball.you can build anything you wanted. magnetic toy,
magnet toy, magnet smart learning toy.

Size: 33.6*27.2*4.5cm
144pcs (60pcs Steel balls+84pcs Magnetic Sticks)
Magnetic magic stick is the new puzzle toys, alternative, novelty, fun, endless change, creativity, fun, imagine the ability to develop three-dimensional space...
First, it can be creat various objects, like animals, aircraft, bicycle, etc. Could develop the children's imagnation ability.
Second, breaking the static defects of the ordinary type toy building blocks, you could creat new objects based on other new idea
Third, as the decorations, can be placed on a desk at home if an appropriate combination can work for your living environment or grace;
Fourth, can be used as teaching tools, with a strong sense of three-dimensional objects.